Both teams to score, or BTTS, is a popular bet that grew out of Betfred's Goals Galore market. The concept is simple, bet on whether both teams will score in the match or not. Odds are also usually just shy of evens making them a favourite of the acca warrior.
On this page you'll find our predictions for the matches we cover. We go for a simple Yes / No approach, although our main tips often cover things like BTTS + Win, but on a case by case basis.
So back them individually or combine into a massive acca, the choice is yours.
Both Teams to Score Tips & Predictions
TBD - Tips are added shortly before the start of each match. Please check back nearer the time.
Recent BTTS Tips
Leeds v Tottenham
BTTS Yes @ 4/9
Leicester v West Ham
BTTS Yes @ 8/13
Everton v Bournemouth
BTTS Yes @ 4/5
Southampton v Liverpool
BTTS No @ 5/4
Manchester United v Fulham
BTTS Yes @ 4/7
Chelsea v Newcastle
BTTS No @ 5/4
Brentford v Manchester City
BTTS Yes @ 4/7
Arsenal v Wolves
BTTS Yes @ 7/10
Coventry v Luton
BTTS Yes @ Evens
Borussia Dortmund v Mainz
BTTS Yes @ 8/13
How Does Both Teams to Score Work?
Both teams to score, or BTTS, is one of the most popular wagers around when it comes to betting on football. It is simple, gives you skin in the game in the best possible way – because you can and will cheer for both sides to score – and the odds are almost always big enough to give a decent reward but not so large that your chances of winning are slim.
How the market is organised and structured varies between sites but increasingly most offer you the choice of either backing both teams to score, or betting on that not to happen. At some online bookies you may only have the option to bet on BTTS as this reflects the market's origins in Betfred's Goals Galore market, where you simply picked matches where you thought both teams would hit the back of the net.
However, most bookmakers now have a both teams to score market where you are presented with two options: yes and no. Back yes and any score from 1-1 upwards will be a winning outcome for you. On the other hand, select no and any score at all with a nil in it will mean you land your bet. It really is that simple, and the market is self-explanatory for the most part: if both teams score, yes is the call; if either, or both teams do not find the back of the net, no is the right selection.
You may see a bookmaker list the market under their core, popular options, it may be filed as a score market, stats market or possibly something else entirely. As one of the more mainstream bets, however, it should be easy enough to find. It might be listed as BTTS, both to score, both teams to score or some other variation on that.
Once you have found the match you want to bet on and navigated to the both teams to score market, you need to decide whether to back yes or no. Make your pick, usually by clicking on the odds or selection, enter your stake and confirm as you would any other wager. And that's it. Just sit back and either hope for goals or, if you opt for "BTTS: no", keep your fingers crossed there is at least one clean sheet in the game.
What Counts as a Goal?
Well, as said, this is a simple market and any goal counts. It can be an own goal, a penalty, a first minute screamer or a stoppage time strike off a player's shin. All that counts is that the official final score does not have a zero in it. 1-1 is the lowest scoring game where BTTS (by which we mean backing "yes") is a winner and it doesn't matter if those goals are both own goals. Nor does it matter when they are scored, be that the first minute or the 90th. A scoreline of 3-1 is just as good too. As is 5-4, 6-2 or any other score in which, to state the rather obvious, both sides score!
On the other hand, if one side has four goals disallowed for offside, misses two penalties and the game ends 1-0, "BTTS: no" will be the winning bet. The same applies no matter how many goals one side scores, be that four or 12. If either side finishes with a big fat zero in the goals column, then those who backed BTTS will lose and those who bet against it will win.
The exception: BTTS is 90 minutes only, not extra time
BTTS, in common with almost all football markets, unless they clearly state otherwise, is a bet that lasts for 90 minutes. Many a punter has wondered why a game finished 2-2 or 3-3 and yet their BTTS bet was settled as a loser. If the game finished 0-0 after normal time (90 minutes plus injury/stoppage time), that is the simple answer. The both teams to score does not include extra time and so even an incredible 6-1 final score (AET) can still be a loser as far as BTTS is concerned if all the goals came in extra time. A haul of seven goals in the extra period really was quite something.
The same, of course, applies to penalties, when we are talking about a shootout following extra time, or even if the game goes straight to penalties following a 0-0 draw after 90 minutes. Penalties in normal time count, as said, so if the game finishes 1-1 thanks to two penalties in normal time, BTTS wins. On the other hand, if the game ends 10-9 in a shootout but was 0-0 during the normal period of play, BTTS will be a loser.
BTTS Variations
Bookies are always looking to offer new and exciting markets to stand out from the crowd and offer punters as many betting options as possible. One of the easiest ways to create a new market is simply to tweak an existing one and so there are now a number of popular variants on the standard both teams to score bet.
Before we look at those, however, let us consider markets that are the same as the standard BTTS but go by another name. Partly for the same reasons as stated above and sometimes because some bets within the market may be slightly different to some within the alternative, bookies may offer more than one market that essentially covers the same eventuality.
An obvious example of this is the way backing a team +0.5 on the Asian handicap is exactly the same as betting on them plus the draw in the double chance market. Another example is backing no goalscorer, rather than 0-0, in which the former has the advantage of also paying out even if the game does not end 0-0 but the only goal or goals were own goals.
When it comes to BTTS, some bookies may offer an alternative market on a clean sheet. Sometimes this is team-specific but some sites offer it with regards to the whole game, which is exactly the same as BTTS. Backing "Clean sheet: yes" is the same as "BTTS: No" and conversely "Clean sheet: no" is the same as backing both teams to score. Even stranger than the fact that bookies may offer same-but-different markets, sometimes they have different odds, even though they are tantamount to the same bet. As such if you are a real value hunter, looking out for which market has the best odds on whatever you want to back is worth doing.
Now, to those twists on BTTS:
Match result and both teams to score – probably the first BTTS variant, this allows you to pick a win for either of the sides, or the draw, and also includes BTTS yes or no. A very popular option, this is a nice way to boost the odds, either from the standard BTTS or the match result.
BTTS in the first half – a fairly self-explanatory option, this market has the same rules as the main one but bets are essentially only valid for the first half plus stoppage time. The odds are higher for this market when it comes to yes, and lower for no.
BTTS in the second half – again, simple enough and self-explanatory, both teams must score in the second period (plus any injury time) for this to win, irrespective of what happened in the first 45 minutes.
BTTS in the both halves – to really boost your payout in what you think will be a goalfest, back BTTS in both halves. Again, this does what it says on the tin and the very lowest score that can possibly land this is 2-2 (with the match having been 1-1 at the break). Backing against this is also usually an option but the odds will invariably be very low.
BTTS and over 2.5 goals – this option combines two very popular goals-based bets and the lowest score than can be a winner is 2-1 to either side. You may see alternative goal totals, such as over 3.5 goals but no matter what, both teams must score and the game must see the required number of goals in total.
Bet Builder Options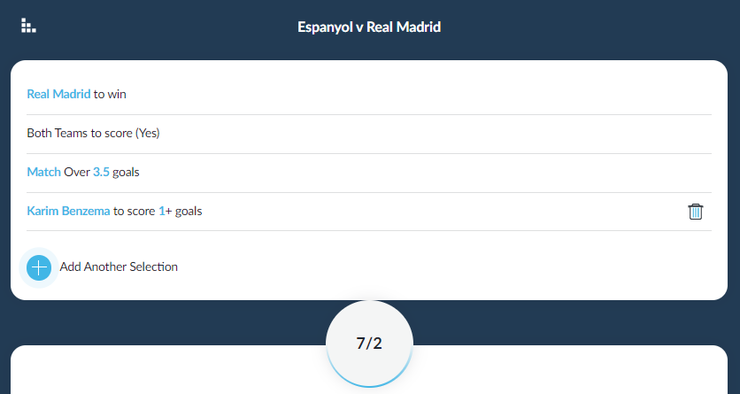 Some sites may offer even more variations on the standard both to score offering but those are certainly the most widely available. If you want to get even more creative though then Bet Builder tools, available at many sites nowadays, offer you the option to build your bet with BTTS (yes or no) as the foundation but then add in any number of extra markets.
For example, you might add BTTS, over 3.5 goals, Real Madrid to win and Karim Benzema to score anytime. Subject to the combinable markets available on the tool, you can add almost anything to a BTTS bet in this way and really boost your odds, although your chance of winning will diminish as the odds increase.
How to Pick BTTS Matches
When looking for matches to back both teams to score (or not to score), as with any bet the key question to ask is whether or not the odds represent value. You might think that Liverpool versus Man City is bound to be a goalfest in which both teams score but the future cannot be predicted and such a game might end 1-0 or 2-0 to either side, or even 0-0 – or any other score with a zero in it.
You have to try and weigh up every possible piece of information and then try and decide how many times out of 100, or 1,000, the game might see both teams score (if it could be played repeatedly under the exact same conditions). If you think BTTS will, for example, happen in 501 or more out of 1,000 times, then odds of evens or higher are good value. Of course, the bookies are also looking at all these factors too and the odds are in their favour as they never offer odds that 100% reflect the true likelihoods of each outcome.
For example, if they believe there is exactly the same chance of BTTS yes as BTTS no, they will not offer evens on both but instead 10/11 or perhaps shorter. Nonetheless, the following are probably the key factors to consider when deciding on whether you think a game will see both sides score or not:
Form and recent results – this is usually the biggest factor punters consider. If both teams have been drawing 2-2, 3-3, or winning by scores like 3-2, it suggests they are both strong in attack but weak in defence, making their head-to-head prime for a bet on BTTS.
General attacking and defensive capabilities – likewise, if two teams are playing who have both scored a lot of goals all season, but also conceded a lot, there would seem to be a good chance of BTTS when they meet.
Relative strengths of the two sides – in a total mismatch, BTTS is often less likely as the far better side has a higher chance of winning "to nil". On the flip side, games between two very-well matched sides are often, though not always, tight and low scoring.
Injuries, suspensions and team selections – if both sides have their main goalkeeper injured and a defender or two suspended, but have their full-strength attacking line-up, it is obvious that BTTS becomes more likely.
Context – if a game is a must-win for both sides then goals are likely because neither will settle for the draw and both have to attack. On the other hand, if a draw is a good result for both, they may not risk too much and a 0-0 or 1-0 either way could ensue.
Weather and pitch – the weather can play a part, with good attacking football harder on a wet and windy day and on a muddy pitch.
What Sort of Odds Can I Get?
For most league games, betting on both teams to score is not all that far off a 50:50 shot, in very general terms. It varies from league to league and during different eras but in general, in the Premier League for example, both teams have scored in around 50% of matches over the last decade, as we will see below. This means that the odds are generally not too far away from evens on virtually all games, both for BTTS yes and also for BTTS no.
There are exceptions, for example when the bottom of the league side plays the top, or when two very dour sides come up against each other but in general you will see odds around evens. Well, more accurately, the chances of each outcome will be not too far off 50% but the bookie's cut, or profit margin, means that both odds will be not too far away from 10/11, or perhaps 4/5.
The table below shows the BTTS odds for a round of Premier League games in August 2022.
| Match | BTTS Yes | BTTS No | Result (Yes/No) |
| --- | --- | --- | --- |
| Tottenham v Wolves | 21/20 | 7/10 | 1-0 (No) |
| Crystal Palace v Aston Villa | 4/5 | 10/11 | 3-1 (Yes) |
| Everton v Nottingham Forest | 17/20 | 17/20 | 1-1 (Yes) |
| Leicester v Southampton | 8/13 | 6/5 | 1-2 (Yes) |
| Fulham v Brentford | 4/6 | 11/10 | 3-2 (Yes) |
| Bournemouth v Arsenal | 10/11 | 4/5 | 0-3 (No) |
| Leeds v Chelsea | 4/5 | 10/11 | 3-0 (No) |
| West Ham v Brighton | 4/5 | 10/11 | 0-2 (No) |
| Newcastle v Manchester City | 4/5 | 10/11 | 3-3 (Yes) |
| Manchester United v Liverpool | 8/13 | 6/5 | 2-1 (Yes) |
What Percentage of Games see BTTS?
As noted above, the figure will vary depending on the game, league, competition, situation and era but in recent times the Premier League really has been very close to 50/50. Indeed, for five seasons from 2016/17 to 2020/21 BTTS was a winning bet in 50.30% of EPL clashes. It really couldn't get much closer to being a 50/50 bet, whilst during that same period the Championship saw both teams score in 51.60% of games.
When we look at the Premier League, what is even more amazing is that the figure per season for BTTS was never more than 1.3% away from bang on 50 (in the 2018/19 campaign we saw both score in 51.30% of games). There really is not much variance then, though if, for example, we look at the Championship we see a little more, the split being 45.80% (BTTS) and 54.20% (no) in 2020/21 and as high as 55.30% (BTTS) to 44.70% (no) in 2016/17.
The stats are somewhat different across the five major European leagues, which is worth knowing because if you decide to have a bet on French football but base your bets on "English data" you may come a cropper, Ligue 1 seeing BTTS a little less often. In contrast, in the Bundesliga both teams score more like 57% of the time, or at least they have done so in recent times.
Does Backing Against BTTS Offer the Best Value?
In reality any serious punter will always assess each and every game on its own merits. However, some make an argument that basic human psychology means that more often than not backing against both teams scoring makes sense, especially for matches on which substantial money is being wagered. This is because we tend to prefer to bet in the hope of goals, rather than the fear of them.
Most average punters tend to favour betting on something happening, rather than not happening. They also tend to overestimate the likelihood of goals. All of this combines to mean that in general, more money will be wagered on BTTS yes than BTTS no, almost irrespective of the odds. This forces the price on both teams to score lower than it "should" be, so the argument goes, and leaves a nice slice of value on both teams not to score, at longer odds, for those that bet with their head, not their heart. Or at least with the logical, rather than emotional part of their mind.
How true this is may be hard to tell but we feel it certainly has a ring of truth and sound logic. It may also be worth noting that of the 10 Premier League games we looked at above, BTTS was priced as the favourite in seven, joint favourite in one and the outsider in just two games. Clearly seven matches is a tiny sample but two out of 10 is a very small number when we know both teams do not score in pretty much exactly five out of 10 clashes. It's also worth noting that six out of the 10 fixtures saw both teams scoring, though clearly this will vary from week to week.